Types of Air Conditioners Installed, Serviced & Repaired by Northwest Arkansas' Experts
Is your home too hot? The path to cool begins with a basic understanding of air conditioning options
The right type of air conditioner for your home depends on the size of the space you are trying to cool and the climate in which you live. Here at Dr. Energy Saver, we specialize in installing and repairing many different types of cooling systems. If you are looking to replace your old, sluggish system with new, energy-efficient air conditioning equipment, our certified technicians can suggest the system that is most suitable for your home. If your current AC system is in need of repair, we can help with that too!
Dr. Energy Saver provides air conditioning services in Springdale, Fayetteville, Rogers and nearby Arkansas. Contact us today!
Types of air conditioning systems and how they work
It's unpleasant and even dangerous to stay in a house that's too hot. But today there are very effective ways to replace hot indoor air with cooler air and maintain comfortable temperatures. All you need to do is decide which type of air conditioning strategy will work best based on your budget, your home's features and other factors. This quick review of air conditioning types will help you make the right choice.
Central air conditioners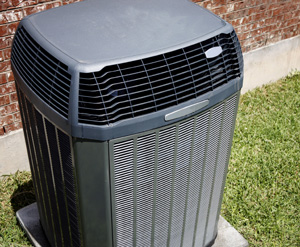 Central AC systems still represent the gold standard for home air conditioning. In most cases, the ductwork system that delivers cool air throughout the house will distribute heated air during winter months. A central air conditioning system is not sized by BTU output. Instead, cooling capacity is given in "tons." A "ton" of cooling capacity equals the amount of heat absorbed by one ton of ice melting over a 24-hour period (roughly equal to 12,000 BTU).
Great gains in comfort and energy savings are possible when you replace an old central AC system with a new, high-efficiency unit. For example, a 10-year old AC system may only be operating at under 10 SEER, while new units are available that operate above 20 SEER. When AC maintenance and repair isn't providing the comfort or savings you want, it's time to consider upgrading to new equipment. Dr. Energy Saver will also help you evaluate building envelope improvements that help to reduce your AC requirements.
---
Ductless air conditioners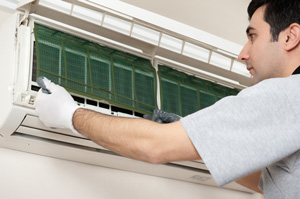 Ductless mini-split air conditioners are usually designed to provide heating as well as air conditioning. In terms of cooling capacity, these units represent the middle ground between portable and whole-house AC systems. But this AC type typically has higher SEER ratings (greater efficiency) than other AC options.
The compact exterior module for a ductless AC unit delivers refrigerant to an equally compact, wall-mounted air handler that blows conditioned air throughout a room. No unsightly window installation is required. Ductless units are sized by BTU. Larger units can supply refrigerant to more than one indoor air handler.
Consider ductless air conditioning if your home has no ductwork, if you need to cool an addition or converted attic, or if you like the super-efficient heating and cooling these systems can provide.
---
Stay cool with an energy-efficient air conditioning system
As Northwest Arkansas' trusted HVAC contractor, Dr. Energy Saver has the expertise to install and repair all types of air conditioning systems. Contact us by calling 1-888-370-6924 or get an online quote for AC repair or air conditioning installation in Rogers, Springdale, Fayetteville, Bentonville, Fort Smith, Russellville, Van Buren, Bella Vista, Siloam Springs, Clarksville and surrounding towns and cities.
Looking for a price? Get a no cost, no obligation free estimate.